Applications Autoxuga for BRANDS + OBD

Professional diagnostic tool for Brands Cars + OBD in several languages with results in Spanish, reset services, technical training and location car

Apps that show data of Engine, Airbag, ABS, ESP, Instrument Dashboard, Automatic Transmission, OBD, etc. and that they read and erase faults by switching off the MIL fault warning light on the dashboard

These apps are very good for the purchase of used or second hand cars in a vehicle market where analyzing the data of the Engine, Airbag, ABS, ESP, Instrument Dashboard, Automatic Transmission, OBD, etc. It's very important. The purchase of a car verifying it with these apps guarantees the good condition of the vehicle's electronics.

You should never buy a used car or used vehicle without checking the electronic modules of the car and with the Autoxuga apps you can analyze the used or second-hand cars before the purchase.

Autoxuga development "apps" for several car manufacturers other than the OBD. To check car's electronics of Engine, Dashboard, Airbag, ABS, ESP, Automatic transmission, etc. by means of a special adapter that sells:

Bluetooth adapter Autoxuga for BRANDS + OBD

These "apps" work OK with the Bluetooth adapter "BRANDS + OBD - AUTOXUGA diagnose" and may work by way of incorrect or incomplete with OBD2 & ELM327 Bluetooth adapters sold on the Internet.

The "apps" BRANDS Autoxuga show OBD data on cars from 2000 onwards and data Engine Diesel, Gasoline, Airbag, ABS, ESP, Dashboard, Automatic transmission, etc. for vehicles manufactured from 2008 to date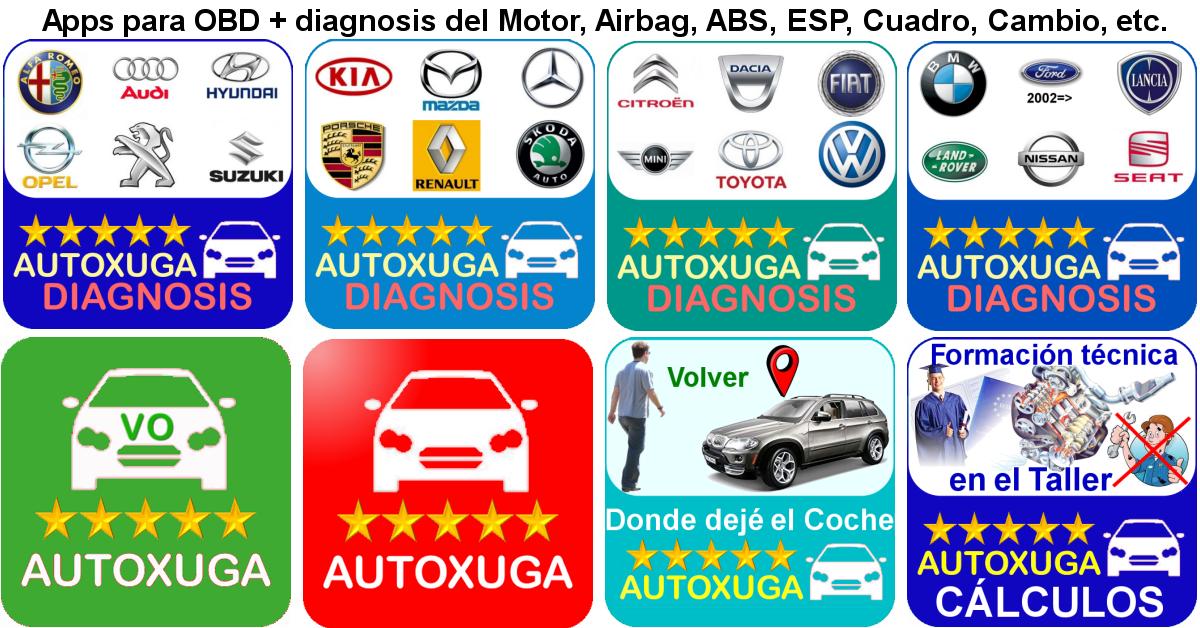 The "apps" of Autoxuga show all parameters of the car's electronics Engine, Airbag, ABS, ESP, Automatic transmission, Dashboard and read and erase faults dtc

These apps are useful for customers because they can read and clear faults of their car and avoid unnecessary expenses in the Workshop

With the Autoxuga apps the client will have his vehicle ready and will know the operation of Engine, Airbag, BS, ESP, Instrument Panel, Automatic Transmission, OBD, etc. and in case the car has any sporadic damage it can be erased so that it works in better conditions

The reading and deletion of breakdowns with these apps is very easy. With just pressing the right button the faults registered in the car disappear

The parameters showing the "apps" of Autoxuga are different in each vehicle depending on the switchboards have the car and not the "app"

The DIFFERENCE between the "app" of BRANDS and of OBD is similar to comparing a Boat with Plane and Train. All are "transport elements" but do not look anything

APPLICATIONS DEVELOPED BY AUTOXUGA

We recommend the "app" of 6 BRANDS:

Group 1.- Kia, Mazda, Mercedes, Porsche, Renault, Skoda

Group 2.- BMW, Ford, Lancia, Nissan, Seat, LandRover

Group 3.- Citroen, Dacia, Fiat, Mini, Toyota, Volkswagen

Group 4.- Alfa Romeo, Audi, Hyundai, Opel, Peugeot, Suzuki

The "app" of 3 BRANDS are:

1.- BMW, Fiat, Hyundai

2.- Mercedes, Dacia, Suzuki

3.- Renault, Mini, Skoda

4.- Citroen, Nissan, Mazda

5.- Peugeot, Ford, Porsche

6.- Audi, Opel, Land Rover

7.- Volkswagen, Toyota, Lancia

8.- Seat, Kia, Alfa Romeo

9.- Mini, Citroen, Jeep

10.- Skoda, Peugeot, Mitsubishi

11.- Porsche, BMW, Chrysler

We remember that the "app" of OBD work on cars 2000 forward and those of car brands operating in vehicles 2008 to date

See the apps sold by Autoxuga
Each manufacturer implements different systems. For example AUDI uses include:

EDC Simos PCR2

EDC 17CP04/14 UDS
Airbag AB 10 UDS
Cambio 0B5 S-Tronic UDS
Cuadro 4.0

CODE INFORMATION TROUBLE DTC

The "app" of "Brands" show 277,877 codes Fault distributed as follows:

*Fault Codes OBD = 9.112

*Codes BRANDS cars:

Audi = 14.665; BMW = 14.619;
Citroen = 4.165; Fiat = 3.287;
Ford = 7.258; Kia = 2.389;
Mercedes = 17.006; Opel = 4.053;
Peugeot = 4.165; Renault = 3.244;
Toyota = 2.336; Volkswagen = 14.665; etc.etc.


SPANISH company that makes more than 25 years management software, Parts, Accounting, Technical and manufactures equipment Multibrand Diagnosis


Click to buy:
Adapter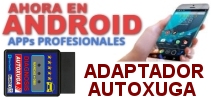 Applications (apps)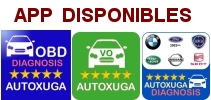 Buying Applications (apps) it is made with a mobile phone Android Play Store and you have to press in amount and follow the steps
Autoxuga makes available new opportunities through online services and we invite you to visit our web

www.autoxuga.com

Tel: 629884413